Contemporary and Modern Wood Dining Table Introduction
Wooden dining tables can trace their roots back to the medieval era where they were used as community dining tables. Since then, wood dining tables have made their way into our homes and our hearts. Often made of sturdy hardwood, these tables are guaranteed to be the center of your kitchen and home for years. Whether you'd like a 4, 6, or an 8-seater table, our collection of the best dining tables here at Gallerynine5 is sure to have just what you need.
As featured in

Our Recommendations





In a hurry? Here are the the most recommended
Wood dining table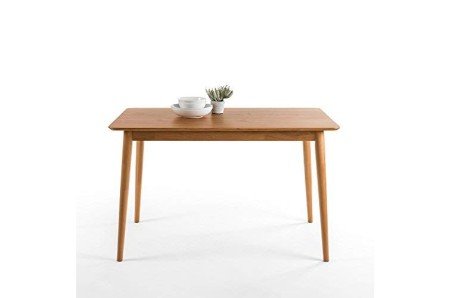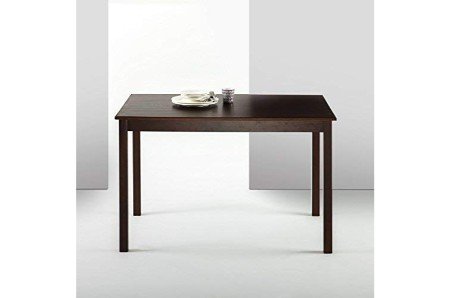 How to Pick the Best Wood Dining Table
Choosing the best wood dining table depends a lot on the size you need. For small apartments, small dining tables are a great option. If you have a big family and love to have friends over frequently then you should go for a large, modern wood dining table.
Your wood dining table will provide both aesthetic beauty and functionality in your kitchen or dining area. When selecting a wood dining room table, check that it can cater perfectly to all your family members. If you have a family of 6, look for kitchen table sets for 6. A solid wood dining table is long-lasting and easy to maintain so long as you don't compromise on quality and craftsmanship. Here are a few more considerations to help you choose the perfect table for your home.
Size - The size of your wood dining room table is predominantly determined by the space you have for it and the size of your family. Your solid wood dining table should not take up all of the available space, even if it looks really good! Make sure that you have some free space around it.
Style - The style of your kitchen table should be in tune with the style of your kitchen. Your table shouldn't stick out like a sore thumb. There are different styles available for a modern wood dining table. Choose the one that works well with your existing kitchen design and is the right size and shape.
Material - A wood dining table is made from strong, sturdy wood that can last for decades. They are usually low maintenance and easy to clean. They are also some of the most trusted and popular tables on the market. For the perfect combination of functionality and beauty, you can't beat a good wood dining table.
Color - Now you've decided that you need a new kitchen dining set, you'll need to decide which color or stain you want. Wood tables can be stained in a variety of different earthy tones. Some are even painted or distressed.
Tips for Choosing the Best Wood Dining Table
It is no surprise that a lot of people decide to shop for dining room tables right before holidays or fancy dinners. But before you jump straight in and purchase one on impulse, there are few factors to consider first. Let's take a look at those now.
‍
Style
If the dining table is to be used for special occasions, then choosing an ornate table with a delicate finish is a very nice idea. Expandable tables mean that you can create a cozy space for your family to enjoy during weeknights and then turn your table into a large one when company comes. Your personal style preferences, whether they are eclectic, modern or traditional, should inform your table choice. After all, it's a piece of furniture you'll use every day.
‍
Size
It's important that your dining table and chairs fit the scale of the room properly. This means that the table shouldn't be too large or too small. Here are a few guidelines that will help you:
‍
Allow 24″ spacing between the dining table and wall so that people can sit down and stand up easily.
Allow 38″ spacing between the table and the wall for easy movement around the table.
Plan for 24″ spacing between each setting so that people can eat comfortably without hitting elbows.
The maximum width of a solid wood dining table should be around 48″. The minimum width of a dining table should be around 34″ – any less and you'll have difficulty placing serving plates in the middle of the table.
If you have a fair amount of available space, base the size of the table on the number of people in your family who will sit there. Then add a few more people ‍to your count so that you'll easily be able to accommodate guests.
‍
Shape
The shape of a dining table is just as important in terms of creating a beautiful and comfortable dining space.
A rectangular dining table is the most common table shapes because of the rectangular shape of most dining areas. Rectangular dining tables are more flexible too since most come with an extension option.
A square dining table looks best in a square dining room. And you can always put two square dining tables together to make a rectangular dining table for special occasions.
A solid wood round dining table works best in a small square-shaped dining room. It creates a cozy and intimate scene and is the best table shape for a small group of people.
An oval dining table is almost similar to a rectangular shape table, but visually it makes use of less space because of its rounded corners. Because of this, an oval dining table is the best choice in a narrow or smaller sized dining room. Many oval tables are also extendable.