Wall and Decorative Mirrors Introduction
When we think about interior design, our thoughts often jump to furniture, paint, art, and soft furnishing. All too often we forget about how useful, not to mention beautiful, mirrors can be. Not only are wall mirrors style pieces in their own right, but used strategically they can make your rooms look spacious and airy. They add light, style, and balance to any room in your home. To really add some wow factor to your existing decor, try wall mirrors. Modern mirrors have broken away from the confines of the stuffy, traditional wall mirrors. Wall mirrors these days no longer means ornate frames perched above a mantle. Instead, decorative mirrors come in a wide range of styles, shapes, and colors. Discover our collection of the best wall mirrors.
As featured in

Our Recommendations





In a hurry? Here are the the most recommended
Decorative mirrors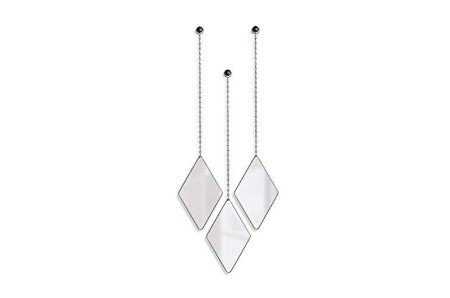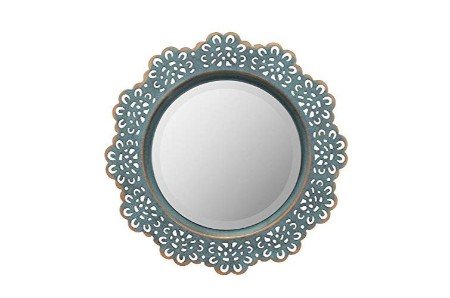 How to Choose Perfect Modern Mirrors for Your Home
If you're browsing mirrors for sale, you might be wondering which kinds of mirrors look good where and whether you should go for framed mirrors or frameless ones. We're here to help with our guide to choosing the perfect modern mirrors for your home. We'll take a look at size, style, color, and shape.
Get the perfect wall mirrors for your space. Here's how:
Shape - You could choose a custom-made mirror or go with regular mirror shapes. Depending on the architectural design of your space, you can push the boundaries with shape, or keep it traditional. A rule of thumb is that tall, thin mirrors add height to a room while wide mirrors make rooms look spacious.
Size - It's important to know where you want to hang your wall mirrors and to know how much available space you have for them. Do measure your wall and the area you'd like the mirror to cover before you go shopping. Next, imagine the space with the mirror in it. Will a small mirror look good, or is a large one a better choice?
Color - The color of your wall mirrors for living rooms should complement the colors in that space already. Go for the colors and shades of the furniture you have around the mirror. Or choose a contrasting color that will tie in well with the existing scheme. Choosing the right color for framed mirrors is an important element of home design.
Style - Your choice of wall mirrors should depend on the existing decor of your rooms, and your individual taste. There are a lot of styles of wall mirrors available including retro, modern, frameless, vintage and more. Choose a style which matches your existing decor to create a cohesive design.
Ways of Decorating with Unique Mirrors
Most times, when we want to beautify our homes, we overlook the design power of wall mirrors. It is one thing to have a mirror (or mirrors) in your home for practical purposes, and quite another thing to actually decorate with them. Unique mirrors offer a great way to add personality, depth, and space to your rooms.
Below are some unique ways of decorating your home with mirrors:
‍
Take it outside: Mirrors that are placed outside amplify the natural beauty around. This placement is also unusual and is sure to be a talking point. Try placing a large mirror on your patio or balcony. Make sure that it reflects the garden for maximum effect.‍
‍
Jazz up your cabinets: You may be surprised by the idea of placing mirrors in the kitchen since, often times, we spent a lot of time cooking and cleaning dishes there! But we can make that time more pleasant by having a nice room to be in. Here's an unusual design tip: mirrors can be placed on kitchen cabinets to give an intriguing and funky look. ‍
‍
Look in, not out: Need to see what's going on behind you while you're in the kitchen? Keep an eye on your kids easily with this tip. Mirrors can be placed in front of a window so you can see the whole room at once. This works especially well in large rooms.
‍
Bathrooms: Mirrors can be fashionably arranged in the bathroom to reflect light and to beautify the room. Adding lights above your mirrors will give your bathroom a soft and inviting glow. ‍
‍
Walls: Make your walls look bigger and taller with strategically placed mirrors. Try a large circular one at the end of your hallway to create depth. Or a large floor to ceiling mirror in your bedroom.