Mid Century Modern Leather Sofa Introduction
A leather sleeper sofa offers a timeless sense of style. No wonder these sofas are one of the most popular pieces of furniture right now. If you are looking for the best leather sofa brands, you're in the right place. Featuring the very best in high-quality modern leather sofas, our collection is packed with a wide selection of sizes, colors, and styles. Whether you're looking for a black leather couch or a brown leather couch, we've got all the options you want. Our sofas are easy to maintain, easy to clean, and are very durable. All our leather couches are special design pieces in the following styles: classic, traditional, retro, contemporary, vintage, and more. Check out our expertly crafted leather sofas and find the one that suits your needs.
As featured in

Our Recommendations





In a hurry? Here are the the most recommended
Modern leather sofa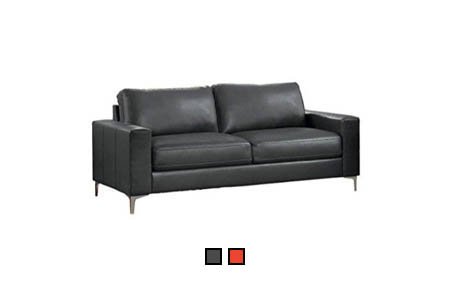 How to Choose the Best Leather Sofa for Your Space
Classic leather sofas should double as both luxury and utility items, and it can be hard to find a sofa that will handle both tasks. Check out the following hand-picked and best-selling leather couches. All are manufactured by some of the best leather sofa brands in the world and each offers both comfort and style in abundance. We're sure once you've browsed our catalog you'll be able to find the perfect one for your home or office. There are a few features you should consider when choosing a large or small leather sofa for your space. Let's take a look at those now.
Size - Whether it's a small leather sofa or a three-seater love lounge, size plays an important role when choosing the perfect sofa. Offices often require the formality of one-seat sofas while informal spaces, like homes, look lovely with multi-seaters or a large leather couch to stretch out on. Consider how much space you have available for the sofa. If you have large rooms, smaller sofas might look lost in all that space. And the same holds true for smaller rooms - big couches might be awkward and dominate too much of the room.
Style - You can find leather sofas in almost any style you can think of. Choosing the right one for your home will complement your room's decor. We offer a range of styles including our popular mid century leather sofa. These couches are chic, elegant and look good in any interior design scheme. Take a few minutes to explore our range of fine leather couches and find one that suits your taste. When choosing a sofa, it is important to take the style and design into consideration as it can make or break the decor of your room.
Color - Choose the right color to suit your room's design. Because colors can set the overall tone of a room, you may prefer the best leather sofa you've chosen in brown, black, or grey for the office. At home, you can be a little more playful. A popular choice these days is a leather sleeper sofa, these beautiful couches come in all sorts of colors including red, green, yellow and orange. Going for a minimalistic look? A modern white leather sofa adds a touch of cool class to any room.
Material - When choosing a leather sofa, the biggest decision you'll have to make is whether you'd like natural or synthetic leather. You'll also want to decide if you'd prefer a softer or harder leather, and what finish you would like the leather to have. Each material and finish has its pros and cons in term of maintenance, care, and feel, but ultimately, you can rest easy knowing that each sofa from our collection is made with the highest quality materials and superior craftsmanship.
Leather Furniture Facts and Care Tips
Leather couches and leather sleeper sofas are durable and easy to maintain. Below are a few facts and tips that will make maintaining your leather furniture an easy task.
‍
Easy care - There's a common misconception that leathers are demanding to care for, but that's because most people don't know how to. In fact, leather is one of the easiest materials to maintain when it comes to furniture. All you need to do is clean the sofa as needed with a leather detergent and a soft brush. Also, condition your sofa annually to keep the leather soft, supple, and looking good.
‍
Lasts long enough, if not forever - Leather is a very durable and hard-working material. There's a reason why so many antique chairs have original leatherwork still on them, the leather has lasted for decades. If carefully maintained, your leather sofa can be used fora very long time. Cost-effective and natural, leather furniture gets more beautiful over time and usually has high resale value, so it's a better option in the long run when compared to some other types of furniture material.
‍
Tips
Care for your new modern leather sofa to make it last as long as possible. To help get you started, we've listed a few handy tips for leather sofa care.
Dust your sofa frequently with a dry cloth.
Try to apply a leather conditioner every six months to keep the leather supple.
No matter the color, keep your leather furniture away from direct sunlight.
Use specially made leather cleaners. Use a dry cloth when cleaning spills.
‍
For further tips and tricks on keeping your leather sofa in prime condition, please check the manufacturer's instruction on leather care for your particular sofa.