Top Wood Bookcase Introduction
Bookshelves have a variety of uses not limited to holding books. For example, the aptly named display bookcase is designed to store books and display items. Bookcases can also be used to protect or display valuable art pieces. A bookcase shelf is often made from plastic-coated boards, veneered particle boards, or solid wood boards. These boards are held by metal rims so that your books, objects, photos, and art pieces can rest safely. The most popular material used for a display bookcase is wood. This is because wood is sturdy, durable, paintable, and complements any decorating theme. Perhaps you're looking for a reclaimed wood bookcase or a sleek display case. If so, take a look at our collection of bookcases on sale. You're sure to find the perfect one for your home.
As featured in

Our Recommendations





In a hurry? Here are the the most recommended
Wood bookcase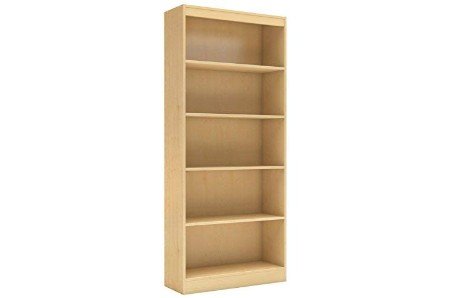 How to Choose the Best Bookcase
Having a library within easy reach is one of the greatest luxuries in life. Especially if you are a teacher, a student, or you just like to read books! For those of us who love to read, getting rid of books can be painful. But if you have a big enough bookcase, you won't have to part with your precious books ever again. Not only are bookshelves practical pieces of furniture, but they also add interest and depth to a room.
Discover our collection of sale-priced bookshelves below and choose the perfect bookcase for your bedroom, office, hallway, or library. To help make sure you get the best bookcase for your home, we've put together some handy guidelines so that you can make your decision with full confidence.
Material - The type of wood material you choose for your bookcase will be determined by how far your budget can stretch, the type and number of items you want to display, and if you plan to paint or change the bookcase. Many people like to buy a cheap bookcase and then upcycle it themselves. Another popular choice these days is a reclaimed wood bookcase, these offer character and charm in abundance.
Size - The space available for your bookshelf and the number of books and items you'd like to display are major points to consider when buying a bookcase. A small wood bookcase will definitely look out of place in a large office or living room. Likewise, a big bookcase won't fit into a small room very well. Make sure you measure your space before choosing a bookcase.
Color - A wooden display bookcase always makes a room look more appealing and inviting. With its earthy tones, wood radiates warmth no matter the shade or color of the wood stain. Looking for more color? Wood bookshelves can easily be painted to any color you choose!
Style - The design, layout, and shape of your bookcase should improve the existing style and arrangement of your space. A wood bookcase should be a complementary piece of furniture and fit in the room well. Wood bookshelves come in many styles like wall-mounted, open, and modular designs. A real wood bookcase adds depth and class to your rooms no matter the design.
7 Ways to Style Your Bookshelf
Beautiful and practical, a wooden bookshelf can be a real design star in your home if styled well. To help get you started, we've listed 7 tips on how to style your new bookcase.
‍
Keep it tidy: The more items you have on your bookshelf, the less impact each item is going to have. Get rid of all the clutter: take away anything that shouldn't be there, and retain anything that is useful or there to be displayed.
‍
Add a background: If you have a built-in bookshelf, try dressing up the background with paint, fabric, or wallpaper for a stunning transformation. It provides a complementary and contrasting element to the bookshelf itself.
‍
Concentrate on the books: Group your books into smaller stacks and position them in vertical and horizontal piles with color scattered evenly throughout. The number of books in each stack will vary depending on the size of the books and the width and height of your shelves.
‍
Keep it balanced: Make sure your bookshelves are not so jam-packed that all the items get lost. Larger decorative pieces can be displayed alone while smaller items can be grouped in threes. Your bookshelf should also have symmetry, don't put all the big items on one side.
‍
Get colorful: Apart from your books, select a few colorful items and photos to display on your new bookshelves. Color is warm, inviting, and adds depth and interest to a room. Choose 2 or 3 main colors and try to stick to those for decorative items.
‍
Blending: Mix up the textures, sizes, and tones of the items on your bookshelf, including your books. But be sure to stick to a single pre-decided color palette.
‍
Spend enough time: The honest trick to getting a shelf looking perfect is spending the time to style and edit it until everything falls into place and you get the look you want.