Small Table Lamps and Bedside Lamps Introduction
Despite what their diminutive stature may suggest, table lamps can change a dull room into a bright and exciting one. They can also add color and interest at a design level. Modern table lamps offer a myriad of styles and designs that are a far cry from the dusty old table lamps of yesteryear. A practical choice, having small table lamps in the master bedroom and in guest rooms means that no one will have to drag themselves out of bed to turn off a light once they're finished reading. Not only that, contemporary table lamps give you another option when it comes to lighting. If, for example, you're watching TV and the ceiling light is too bright, you can turn off the main light, turn on your lamp and watch your show without having to sit in bright, unrestful light. Whether it's a funky table lamp you're looking for or perhaps table lamps for living rooms, our collection of table lamps is sure to have the right one for your home.
As featured in

Our Recommendations





In a hurry? Here are the the most recommended
Small table lamps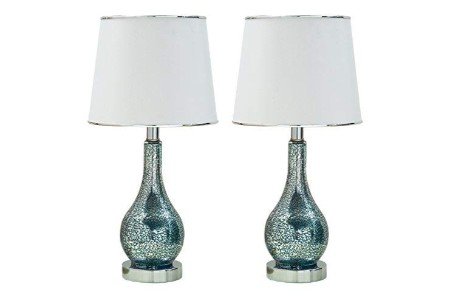 How to Choose the Best Small Table Lamps
The major purpose of contemporary table lamps is, of course, to provide lighting and additional lighting options in a home. But the world of interior design has proven time and again that modern table lamps can also be used as decorative pieces in your home. Depending on what kind of vibe you want to create, there's sure to be table lamps to suit your vision. Don't worry, you don't have to have something boring when it comes to table lamps for living rooms. Our selection of unique table lamps offers interest and style in each lamp. Since you're likely to be spoilt for choice, we've put together a short guide on choosing the best lamps for your home:
Material - Table lamps can be made from a huge variety of materials like wood, resin, ceramic, brass, glass and marble. If you're looking for something sturdy, choose a tough material that's durable. If toughness isn't a concern, pick whichever material complements and lifts your existing decor.
Size - Nightstand lamps are often placed on each side of your bed on your nightstands. The size of your nightstand will determine the size of the lamp. Nightstand lamps are usually small and make good choices for other areas of your home too. Whichever kind of small lamp you get, do make sure that its base will be able to rest comfortably on the surface you have available for it.
Color - As always, colors should complement each other. The color of your table lamp and home decor should be in sync with each other. This doesn't mean that they should match. Or be the same color in different shades. In fact, contrasting colors, such as orange and gray, usually complement each other well. Complementary color schemes bring a sense of cohesion to a room.
Style - Contemporary table lamps often come in pairs, one for each side of the bed. It isn't compulsory to choose the same lamps for your bedside tables though. You can decide to be a little quirky and take two different lamps that are coordinated in regard to design and color. Just make sure you match the style of the lamp to the design style of your room.
7 Designer Tips for Decorating with Modern Table Lamps
Who would have thought that as unassuming an item as table lamps could be so useful when it comes to interior design? Unique table lamps are a fantastic and affordable way to boost your style game ‍and add personality to your rooms. Not only that; because table lamps are practical items, you'll have more options when it comes to creating a relaxing and atmospheric lighting system. Table lamps are generally inexpensive, hard-wearing, and many are easily updated with a lick of paint or a replacement shade.
Ready to decorate with table lamps? Here are a few ideas:
‍
Choose a table lamp with a long stem or an interesting design detail to create height and visual interest on your tables. If you're feeling bold, choose a bright, unexpected color such as primary blue.
‍
Don't throw out that old lamp. Instead, replace an old shade's fabric with a modern print. Anything retro-patterned or featuring geometric shapes ‍is very popular right now. This look works well in contemporary and mid-century modern styled homes.
‍
Color matters, so choose lamps and shade in a color that will complement and add to your existing color scheme. Alternatively, go for a bright and striking statement color.
‍
Consider your fabrics if you're using shades. If you want to create a soft glow in a dark room, try a heavy muslin or calico shade in a natural tan color.
‍
Mix and match sizes. Juxtaposing a tall table lamp with a shorter, more stout lamp will create eye-catching visual appeal.
‍
Mix and match bases and shade. Got an old, retro-looking base that you don't know what to do with anymore? Try topping it with a modern and edgy shade.
‍
Table lamps aren't just for tables or nightstands. Try placing one on your windowsill at night to create an ambient glow. They also work well in bathrooms providing soft, diffuse light.